It has been awhile since I have had the time to actually sit down and write a post. I never thought that motherhood would be so crazy! I thought that I would be the perfect little mommy with a clean house and happy child.

Wow, I was wrong. My baby doesn't get a bath everyday because it is such a hassle to get everything ready because every time that I put him down he starts screaming. He then screams afterwards because I have to clean it up. The only way I am able to pick up is to have him strapped to me in a baby carrier. Oh and when I cook he is strapped onto me the whole time I do that.

My baby was a little sick this week as well. His being sick made everything a lot harder.

So I guess this week has been a series of lessons teaching me that everything goes pretty bad whenever I try to do it in my own strength. I think that I would be going insane without my prayer time every morning. I have a cute little baby though :)

This is the only way I am able to get some cleaning and laundry done.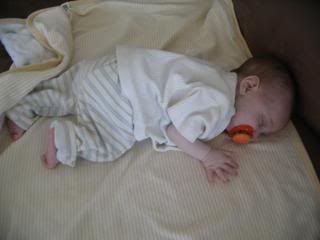 And here is one just cause he is so sweet.