It has definitely been awhile since I have blogged :) I decided to take a crack at it this morning. We have been super busy with Luke having some more health issues and me going to Spain. I hope that I can share some of the pictures with you soon.

The big news is that Luke started walking! Not consistently but enough that I can say he is walking. It's very cute if you ask me :)

The past month or so has been a character building experience for me. I was worried when Dan lost is job but now the Lord has blessed him with an even better job than the one that he lost. I can't even explain to you how awesome the Lord provided for us when Dan was laid off. We didn't get too far behind in our bills and we didn't get evicted. I guess that I was very scared about that. God is good though and He lovingly brought us through all of this.

Luke did have a PFT last week and that went very well. We found out that he doesn't need Albuterol with every treatment and so that minimizes how long a day I spend sitting with him on my lap.

Here are some pictures for you!

This is the area that I went to in Spain. This is high above the valley where we distributed literature and worked on the farmhouse that the missionaries own and use for various things. It was such an amazing trip!



Me and my sister :)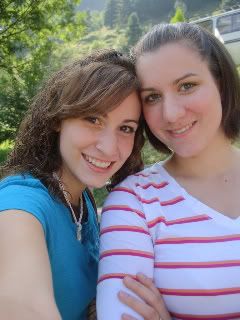 Here are some of the fall pictures that we took. I hope to upload more to photobucket soon.