So Luke seems to be doing great with his PICC line so far. I haven't made any major mistakes and his PICC isn't infected. His nurse comes by allot to take care of it and change the dressing but this is soooooo much better than staying in the hospital. We get to relax and be on our schedule and we also get to have privacy, something you don't get at all in the hospital.

Luke and I went to a ladies retreat this past weekend and it was great. It was so refreshing to be around other women that were there for the sole purpose of drawing closer to God. I haven't been able to go to church as much as I would like so getting the Word 3 times a day gave me a real spiritual jolt.

The speaker was great and every session hit home with me. One lesson was about having a quiet spirit while we are going through storms in our life. I struggle with this but I am learning to rejoice that I am going through the trials of life because these trials are making me stronger and more sensitive to God.

I bought some great books so I am super stoked get started on them.

On another note, I am very excited because Dan and I are starting to plan a trip to go see the Creation Museum next month. My mom wants to have a dry run taking care of Luke before September (my lil' sis and I will be going to Spain on a missions trip) and I thought that this would be perfect.

Actually, Dan and I need to get away. It's very hard to lose focus in our marriage with everything that is going on. I think that we need some time away to have fun together and not have to worry about when a certain medicine has to be administered or if Luke is feeling okay. My mom is so good with kids and she helps out with all the little grandkids allot. It is so nice for us to have her because she is one of the few people I trust to watch him. She is such a great example of what a mother and wife should be. I only hope that I can be half as great as her.

I will leave you with some pictures. Maybe tomorrow I will post some of Luke getting an infusion :)

Luke's PICC -not great quality because all are taken with my camera phone




Random pictures of Luke

This is the face he makes when he fake coughs.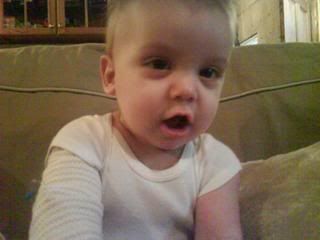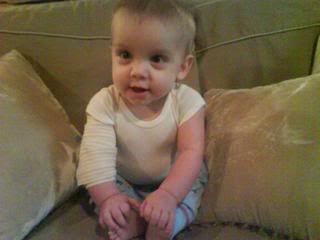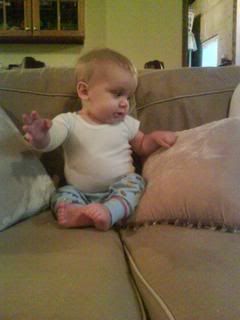 looks like he has a lazy eye here!